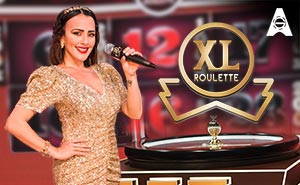 XL Roulette
About XL Roulette
XL Roulette is a wheel-spinning live dealer game from Authentic Gaming, a product supplier that derives its name from the fact that it exclusively aired its betting from land-based venues. In 2019, this company created a studio in Malta named The Arena. Sessions in XL Roulette, which debuted in the first half of 2021, are aired from this venue.
Like most live roulette variations, such as Quantum Roulette Live, this streaming pick also utilises European roulette as its basis. That means that straight number-wins pay 35:1.
The novel aspect of this live table choice is that it has four different game modes. The first one is S, where straight wagers pay their default, with no lucky numbers (multipliers) active. Then comes the XL mode (the standard one), where these pay 29:1, and the round can have one to five multipliers overlaid, each producing up to 500x wins. In the XXL mode, straight numbers pay 23:1, and there can be two to eight lucky numbers, and in the XXXL mode, three to eleven multipliers can be present. Also, straight wagers pay 17:1 here. Thus, as the chances of getting a multiplier grow, the corresponding payout is lowered. But note that the multiplier payouts do not change in each mode, moving from 50x up to 500x.
Before any wheel spin in XL Roulette, an RNG-powered slot-like spin determines the lucky numbers on the board, and then the gameplay plays out as expected. So, this Authentic Gaming creation attempts to implement an enhanced approach to classic roulette action and does so successfully.
How To Play XL Roulette
How to Set Your Stake
Wager sizes in XL roulette can be set via a chip icon in-game. The allotted wagering time in this game is limited, and it is during this period everyone must decide if they want to participate in a round, what kind of bet they will make, and how much they are willing to stake.
How to Play XL Roulette
As mentioned, before staking anything, upon entry into XL Roulette's interface, you must choose which game mode they wish to activate. XL roulette allows outside bets, but the randomly selected multipliers only apply to the straight wagers, ones made on single numbers. After the desired mode is picked and a stake is made, a screen shows reels spinning and stopping on an arbitrarily chosen number of multipliers displaying differed values for each mode, which are overlaid on a virtual roulette board, and if the little white ball lands on a bet number with a multiplier on it, its value multiplies by the selected stake, anywhere from 50x to 500x.
XL Roulette Bonus Features
Technically, the explained mode selection is this game's special feature. We say that because choosing the S option turns this live casino table pick into a regular European roulette table. If one chooses this option, the multipliers do not get factored in, and straight-up bets pay 35:1. Hence, XL Roulette can double as the classic iteration, boasting the traditional payout structure. Only in one of its three extra modes do the multipliers become active. When that happens, the paytable is adjusted.
21.co.uk Review Of XL Roulette
XL Roulette is yet another addition to the live roulette category. It is an option similar in spirit to Runner Runner Roulette 5000x, as it also applies 50x to 500x multipliers.
Still, XL Roulette offers a bit of diversity, allowing players to adjust their session by choosing a mode they feel is the right fit for them.