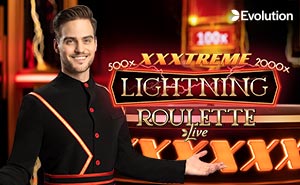 XXXtreme Lightning Roulette
About XXXtreme Lightning Roulette Live
Electrifying gameplay awaits those who play XXXtreme Lightning Roulette Live. Much like the original Lightning Roulette, players are greeted by the sleek and stylish red and black design, prevalent on the roulette wheel and as the backdrop. The thing that takes this version of Lightning Roulette to new heights is the impressive multipliers, which can soar up to 2,000x through Double Strikes. Truly shocking potential. Not only that, but multipliers have the chance to strike up to ten times through Lightning and Chain Lightning Numbers.
During a round of XXXtreme Lightning Roulette, players will be offered to place their bets on the table of 36 numbers, each assigned the colour red or black. The zero is also available, to bet on in this version of roulette. Once bets are placed, the boards behind the croupier will come alive with lightning numbers and accompanied by one of nine multipliers ranging from 50x to 500x stake. These will be animatedly struck by lightning to reveal each of the lightning numbers, between one and five lightning numbers will be selected at this stage of the game. This is similar to its predecessor Lightning Roulette Live, however, this is where things can get more electrifying.
Get shocking potential with Chain Lightning
There are two major benefits to chain lightning. The first is the addition of more electrifying bet spots, meaning that lightning can strike the table again, traveling across the table and adding additional multiplier worthy spots, up to a maximum of ten spots can be highlighted during one round. Then there is the Double Strike which can increase the multipliers between 600x and a huge 2000x stake! If the ball lands in one of the pockets highlighted as a lightning number, then players who placed a Straight Up bet on that number will receive a win with that number's multiplier.
How to play XXXtreme Lightning Roulette Live
XXXtreme Lightning Roulette Live is played by placing valued chips onto the virtual table. Chips can be placed over one, or multiple slots, depending on your style of play. If you're not sure of the best ways to place chips, or play roulette, then check out our roulette guide for more information. Once bets are placed, both the virtual table and the screens behind the presenter will be struck by lightning, triggering random numbers to be selected for multipliers. As the ball is dropped onto the roulette wheel, there's potential for the chain lightning bonus to trigger and add more bet spots, and more multipliers to the table. Bets are won if the pocket that the ball lands in is a number you've bet on.
What we think of XXXtreme Lightning Roulette Live
Here at 21.co.uk, we're all about live casino, it's our bread and butter, and since Lightning Roulette Live is one of the most popular live casino games we have on-site, we're delighted to see this new addition to our catalog. There are massive amounts of potential thanks to chain lightning and double strike, and the design of the backdrop is thematic and sleek, not to mention the impressive lightning animations we get to see with this roulette game. So we hope that our players will love it too.
We know that roulette isn't for everyone, and that's why we've expanded beyond that so that there's something here for everyone. You can also find a wide range of blackjack games, and even live game shows on our site, so there's always something else to check out. Try all this and more on 21.co.uk, the UK's best online casino.