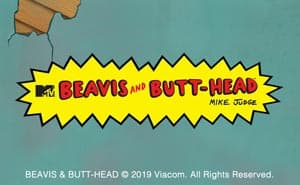 Beavis and Butthead
About Beavis and Butthead Slot
Beavis and Butthead slot is an online casino game developed by Blueprint Gaming, who've made a name for themselves thanks to their entertaining, bonus-packed TV to slot adaptations. Played on a 5x3 reel setup with 20 paylines, the base game interface is easy to understand. But don't be fooled into thinking this slot is basic, as the abundance of bonus rounds are anything but. The theme, if you haven't guessed it, is based around the 90s adult animated sitcom, Beavis and Butthead, which centres on the shenanigans of two socially incompetant teenage couch potatoes.
Not only can players benefit from reel modifiers in the from of Giant Symbols, Wild Reels and more, but may also trigger up to six bonus games which come in the form of free spins rounds, big money bonuses and pick features. There's plenty of potential, portrayed to players in true Beavis and Butthead style, as you navigate your way through fast food joints, flaming farts and couch fishing.
Play Beavis and Butthead slot on mobile, desktop or tablet here at 21.co.uk, the best online gambling site.
How to Play Beavis and Butthead Slot
Bet Use the arrow buttons next to the Bet button to adjust your stake to your liking. Make sure you check that your total bet suits your bankroll before playing Beavis and Butthead slot.
Help We recommend you read up on the game before placing any bets. You can access help pages via the three white bars icon, in the bottom left-hand corner of the screen. From here you can read about the game's bonus features, rules and paytable.
Spin When you're ready to play, hit the spin button, which features a green arrow. The reels will spin for a single round at the current bet, which will be deducted from your balance.
Beavis and Butthead Slot Special Features
Couch Your Cash Bonus Modifiers
Sit down on the iconic sofa with the delinquent duo, and the reels take their place inside a retro TV. Keep an eye on Beavis and Butthead, as, if they start to snigger, you may have triggered one of the Couch Your Cash modifiers.
Die Fly, Die! A buzzing fly is getting on Butthead's nerves - watch as the pair jump from the sofa to smack the TV with fly swatters. Their failed attempts to get the pest may turns random symbols Wild on the reels.
Cornholio Wilds Look out for Beavis's alter ego, Cornholio, as he may appear on screen to award Wild Reels.
Colossal Couch Fishing Butthead brings out his fishing rod for this modifier, to help players catch 3x3 Giant Symbols.
So Nacho! Butthead may open a bag of nachos, which then explodes, leaving an orange mess on the reels. The nacho mystery symbols will then transform into an identical symbol combination.
Butt Flambe Hold your nose as Beavis is suffering from a bad case of Flaming Farts. Watch him chug a bottle of hot sauce, causing explosion of gas across the reels. The reels may then catch on fire as a result of Beavis's feverous flatulence, triggering the bonus feature.
Some Like It Hot Beavis and Butthead engage in a game of dares, encouraging each other to chug the hot sauce again. This time the fire comes from the opposite end, as they burp flames onto the reels.
Additional Modifiers
There's another two modifiers up for grabs in Beavis and Butthead slot.
Sofa Slugfest Butthead will bring out his trusty fishing rod, this time hooking Beavis by his hair. He will then release his friend, as Beavis flies across the reels, knocking symbols out of the way in the process. Eliminated symbols are then replaced with new ones to create a line win.
Change the Channel If Butthead tires of the game, he will grab the remote and change the channel - the reels will then spin once to reveal a winning combination.
Butthead's Bonus Games
In addition to the epic modifiers on offer, players may also be able to enter six different bonus games for even more Butthead-style winning potential. All bonus games portray a bonkers storyline in true Beavis and Butthead fashion, with various scenarios unfolding across the screen. To enter the bonus feature, you need to land three or more Hollywood Star Scatter symbols anywhere on the reels. You'll then be presented with six film strips - choose one to reveal a bonus game. A Mystery Win may also be revealed for an instant cash prize. The available bonus rounds are explained below.
Don't Be a Buzzkill Bonus This bonus round takes place in Coach Bradley's office. The coach will present a task to players - pick either Beavis or Butthead to increase the Kill-o-Metre. Your chosen head may reveal an instant cash prize or a buzzkill, which raises the Kill-o-Metre and as a result, makes the coach see red. If the metre is completely filled, Coach Bradley's office bursts into flames and the feature returns players to the base game. Any cash prizes won will be credited.
Customers Suck! Join Beavis and Butthead for a shift at Burger World. You will be given the chance to choose from four rows of food boxes to reveal prizes. Each type of food represents a multiplier - all multipliers collected will be totaled to generate your final prize. Reveal three gold burgers and you'll be upgraded to the Maxi Mart Free Spins bonus. Watch out for worm burgers as these may fill the Danger Metre and return players to the base game.
To 'B' or Not to 'B' Free Spins You'll be taken to Butthead's front yard, where you'll be given ten free spins. On each spin, Beavis and Butthead may turn into Wild symbols for higher winning potential. Land three Hollywood Star symbols for three additional free spins, or six to be upgraded to the Just Deserts bonus.
The Great Cornholio Free Spins Say hello once again to Beavis's alter ego, and this time, he has free spins. Cornholio will appear as a Stacked Wild as you play against the backdrop of the school bathroom. Six free spins will be awarded initially, but the Token Feature may offer three Extra Super Spins or an upgrade to the Just Deserts Bonus if three or six Scatter symbols are landed.
Just Deserts Big Money Bonus The final bonus game in Beavis and Butthead slot sees players pick animal skulls to reveal a number of steps. The aim is to progress through the desert - the further you get, the better the multiplier prize awarded. However, the further Beavis and Butthead walk, the more tired they become, and they may collapse at any moment. Landing on a Collect symbol will also see this expedition cut short, but find the Oasis segment and you'll be granted a mystery prize.
Feature Gamble
When you have chosen a bonus game, you have to option to gamble for the chance to play one of the higher-paying ones. Hit the Pick Again button to try your luck, you'll reveal either an upgraded bonus round, a mystery win or an instant cash prize, but be careful - you may also leave empty handed.
Beavis and Butthead Slot: the Verdict
We're a big fan of TV to slot adaptations, as they're nearly always fun-themed, quirky and bonus-rich. Beavis and Butthead slot is no exception. There's a staggering number of bonus features on offer, from modifiers to interactive games, providing players with varied gameplay - to find out more about this slot extravaganza, check out our Beavis and Butthead slot review. If you like this game, check out The Goonies slot and Andy Capp slot.