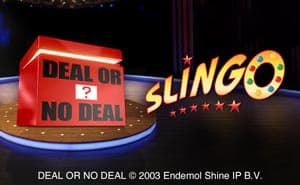 Deal or No Deal Slingo
About Deal or No Deal Slingo
Combining a plethora of player favourite features from an array of different top casino games offerings, such as slots, bingo and game shows, Deal or No Deal Slingo presents something for all of our players. It's fast-paced, innovative and packed with payout potential to make gameplay that little more engaging.
As a simple Deal or No Deal Slingo game overview for those who have never played Slingo games before, don't worry. It's a straightforward concept to get to grips with, and if you're already familiar with either bingo or slot-based online casino games, you already hold basic Slingo gameplay knowledge.
The aim of the game is not dissimilar to that of bingo as you play to fill as many lines on your card as possible - randomly generated numbers will appear at the base of the game grid, and any that match the numbered boxes on your card will be marked off in true Deal or No Deal style, each box opening to reveal a blue or red value to determine your payout potential.
Once enough lines are formed, and the majority of the boxes have been opened, the banker will call you to ask the famous question - Deal or No Deal?
How To Play Deal or No Deal Slingo
Stake
Setting your stake in the Deal or No Deal Slingo game is similar to placing a wager when playing online slot machines. Use the (+) and (-) keys to toggle through the available bet amounts and select a suitable bet value for your bankroll. However, unlike slot games, this wager is used to play through 10 consecutive spins rather than 1 so it's worth bearing that in mind when choosing the amount you would like to bet. Once those initial 10 rounds are spent, you have the option to continue spinning for a certain amount - this is determined by the potential prizes concealed inside the remaining boxes.
Pick Your Box
Those of you who are familiar with the original Deal or No Deal TV game show will recognise this step. Select a box to keep aside, concealing a randomly selected cash value which will be revealed and potentially rewarded to you at the end of the game. As with all Deal or No Deal games, you can opt to accept the banker's offer or decline and open your box to end the game.
Achieving the top of the prize ladder will provide a multiplier of 20x, improving the original prize values found in your box.
Spin
Once your stake is set, and you have chosen your Box, hit the Spin button to start the game. Randomly generated numbers and symbols will spin and appear in the row below the game grid, and any that match the iconic red boxes on the grid will be opened automatically and the corresponding value removed from the displays on either side.
Slingo Deal or No Deal Bonus Features
Within Deal or No Deal Slingo, there are a number of bonus features available for you to potentially trigger, including free spin symbols and the joker boxes.
Free Spins
Landing free spin symbols add extra spins to your counter. For example, if you were to land one free spin symbol, you would be awarded an additional free spin.
Jokers
There are also additional symbols that can land to help potentially form winning lines, including Jokers, which will allow you to open any box that appears in the row above where the Joker lands. Landing the super joker provides the ability to remove any box from the grid.
Alternatively, the devil blocks potential matches throughout the game, preventing possible wins.
Before you play Slingo Deal or No Deal, you can learn more about other available symbols and detailed on information on how to play this game style. Head over to our Slingo games hub where you'll find everything there is to know about playing Slingo and all of the other Slingo-based games we host here at 21.co.uk all in one place.