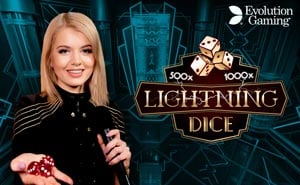 Lightning Dice
About Lightning Dice
The studio set of Lightning Dice alone is worth a visit. It's a sumptuous display of Egyptian inspired Art Deco styling with two pairs of flanking pillars in a rich bronze decorated with lightning flashes. They are interconnected by panels with embossed geometric designs.
In the centre at the top of some honeycomb-shaped steps is the dice tower itself, a shiny, golden obelisk resplendent with carvings. It's covered by a transparent panel containing a complex labyrinth of pathways that the dice travel through before displaying their results at the tower's base.
With random multipliers worth up to 1,000 being applied whenever lightning strikes, there are plenty of lucrative cash prizes waiting to be won.
How to Play Lightning Dice
The game uses three cubed dice with their sides numbered from one to six. To win you must correctly predict the total number of spots shown on the upper face of each of the dice when they come to a stop at the base of the tower.
To place a bet you select your chip size then click on a number from three to eighteen on the virtual panel at the lower part of your screen to indicate what you think the total will be. You can use the Re-Do button to replace your bet or press Double to increase it by two. If you have sufficient funds and can withstand the electrifying suspense you can even bet on all the numbers at once.
Once the timed betting allowance of fifteen seconds has finished, a random selection of numbers is struck by lightning flashes and are awarded random multipliers of up to 1,000 times. The dice are then placed in the top of the tower by the presenter.
Through multiple online casino camera angles including close-ups you can observe the dice as they make their hectic journey down the tower. If you bet on the winning total without an additional multiplier your prize is a standard payout plus your original stake.
Lightning Dice Rules and Stats
Betting limits range from a minimum of 0.20 to a maximum of 2,000 coins. The Return To Player (RTP) rate in the main game is 96.21% which should give a moderate flow of cash prizes. Understanding mathematical probability could increase your success rate. Three dice produce no less than 216 likely results but the probability of specific numbers appearing is varied. For instance, there are twenty-seven ways to achieve a total of ten but only three ways for number four. The main payout for ten or eleven is 4/1 while four or seventeen is 49/1. Other payouts include 24/1 for totals of five or sixteen and 6/1 for eight or thirteen.
Special Features in Lightning Dice
The lightning flash multipliers, similar to those that appear in Lightning Roulette, can significantly increase your prize money. Before the dice are launched, lightning randomly strikes up to four numbers. If one of the chosen numbers forms the winning total it's increased by the lightning multipliers. If the total is ten or eleven, the lightning multipliers could increase your payout to 49/1. Four or seventeen could be 499/1, five or sixteen could pay 249/1 and eight or thirteen could pay at 49/1.
Other Casino Games at 21.co.uk
If you find that dice-based games aren't really for you, don't fret! We have plenty of other titles for you to choose from. You can play casino card games such as online blackjack and online poker, plus a wide range of other live casino games for you to discover.
Want to unlock £5 free to play on Live Casino Games?
Stake £50, Get £5 On Live Casino
Get Our Live Casino Bonus Offer
Full T&Cs apply. New players only. 7 days to claim offer and deposit £50 with further 7 days to wager on Live Casino 1x. Wagering contributions vary. £5 bonus has 3 day expiry to use on any eligible Evolution game.