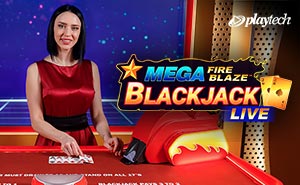 Mega Fire Blaze Blackjack
About Mega Fire Blaze Blackjack
Mega Fire Blaze Blackjack is a PlayTech live dealer game in the Fire Blaze series, with many other variations also available. PlayTech has used it previously in games such as Mega Fire Blaze Roulette.
As for the blackjack variant, it's set to standard Vegas rules. The game is based on the Soft 17 rules with additional side bets. Of course, unlike other games, this one has a bonus round which is unique for a live dealer game. This is the Mega Fire Blaze bonus that you can play for an additional bet.
The presentation is top-notch, as expected. Streamed from PlayTech's cutting-edge studios, the game is hosted by professional dealers. The design and layout make it easy to play the game. As this is a real-money blackjack game, make sure you are familiar with the rules before placing your first bet.
How To Play Mega Fire Blaze Blackjack
How to Set Your Stake
The game begins with a betting round. You can see your balance and set your wager in the lower left corner. Adjust your bet to something that suits your playing style; then, the game will begin automatically.
How to Play Mega Fire Blaze Blackjack
Taking part in the game is automatic. The game begins when the betting round ends. The dealer will deal two face-up cards to each position, then a card facing down. Mega Fire Blaze Blackjack allows several players at the table simultaneously, with action beginning with Player 1. The goal remains the same – you need to beat the dealer without going over a count of 21. You can also win if the dealer busts before you do.
The rules in Mega Fire Blaze Blackjack are built on Vegas Rules Blackjack. After you get your cards, you can split, stand, hit, or double. A player win pays even money. A natural blackjack pays 3:2. All dealer wins result in a loss to players. If you and the dealer have the same hands-on reveal, it results in a push – you get half of your bet back.
Mega Fire Blaze Blackjack Bonus Features
The main highlight of Mega Fire Blaze Blackjack is the Mega Fire Blaze bonus. This is a side bet that you need to place an additional bet on. To start the bonus round, you need to accumulate 5 points during regular play. The bonus game has several levels that are determined by the number of points you accumulate during the regular round. The final level – Mega Fire Blaze, is available on 25 points.
Each bonus level contains a grid with a different number of segments and multipliers. If you reach the final one, you can expect 6 segments with multipliers up to 100x. Those are the special multipliers, with two special segments that double and triple your wins. In terms of gameplay, it starts with three spins where multiplier orbs are dropped from above and on the grid, with multipliers resetting the count to three.
The highest payout is in the Mega Fire Blaze bonus round, where you can land several multipliers that combine for up to a 1,000x return.
21.co.uk Review Of Mega Fire Blaze Blackjack
Mega Fire Blaze Blackjack is another fine addition to the long-running series by PlayTech. Based on Vegas blackjack rules, the slot's main attraction is the Mega Fire Blaze bonus round. It comes with several levels with slot-like gameplay where you can hit multipliers up to 1,000x the bet.
If you're looking for an alternative game, you could also try Mega Fire Blaze Roulette. It's a roulette game with a similar bonus round and potential multipliers.