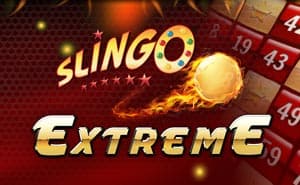 Slingo Extreme
About Slingo Extreme
Players may be put through their paces in Slingo Extreme, a fantastic Slingo title brought to you from the esteemed developers at Slingo Originals. This top UK casino game is fit to burst with searing winning potential and blistering bonuses that put players in the hot seat as they spin to uncover possibly valuable winning Slingos.
Boasting fantastic mechanics from both online bingo games and slot machines, Slingo games are brilliantly innovative and incredibly easy to pick up and play as they make for a fantastic all-rounder to bridge the gap between bingo and slots for players looking for something to test new waters but still want something as equally rewarding as their favourite UK casino games.
Spin through 11 rapid-fire rounds, each presenting a new set of five numbers that could mark off matches across the grid, with an overarching goal of filling the setup with as many winning Slingos (paylines) as possible and enhanced payout potential for every payline made. Special symbols such as Jokers, Devils and Free Spins can also appear to add an air of variation to your gameplay and potentially improve your payout possibilities by helping to fill out those all-important lines too!
How To Play Slingo Extreme
Stake
There are a variety of different stake options for players to choose from, so there's something to suit every gameplay budget. Before you start the game, make sure you adjust your stake so it suits you - this wager will allow you to play through 11 consecutive rounds of standard gameplay, with the chance to land free spins throughout. You also have the option to purchase further rounds once the initial games have been played.
Spin
Once your stake is set and you have familiarised yourself with the rules of the game, you can press the spin button to start playing. Each spin will display a new set of randomly selected symbols, including numbers, Jokers and Free Spins. If any of the numbers that appear match those on your grid they will be marked off automatically to contribute to forming Slingos. Any Jokers that appear will give you the freedom to mark off a number of your choice in an allotted column and Free Spins symbols do exactly as they suggest, award players additional games to play with.