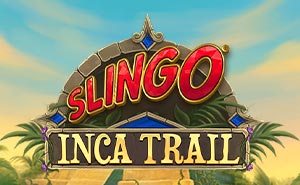 Slingo Inca Trail
Slingo Inca Trail - What you need to know
Slingo has managed to perfectly integrate the Inca theme of games, such as Inca Idols, into the Slingo gameplay - to create the Slingo Inca Trail game with some seriously stunning graphics. The symbols on the reels are perfectly designed and the background scenery of lush Incan landscapes with towering trees looks more than impressive.
With 5 reels and 6 rows, the gaming grid is impressively large and showcases intricate designs. The game includes a max win of up to 5,000x your stake by successfully hitting the bonus features and uncovering special artefacts.
In Slingo games, the gameplay differs from traditional online slots, as your aim is to mark off numbers and complete lines by spinning a wheel. These matching lines will trigger wins, as well as additional bonus features - such as working your way through a game trail, as seen in Slingo Inca Trail.
By marking off specific numbers in the base game grid and using the game's Wilds to replace numbers in the same column, you can start creating matching lines and trigger winning combinations. The game symbols include Incan gems, numbers, Wilds, and Arrows, all of which lead to exciting bonus features.
Slingo Inca Trail Statistics
Grid Size: 5x6
Provider: Slingo Originals
Number of Winning Lines: 12
Slot Theme: Inca
Volatility: High
Main Bonus Round: Wild and Super Wild Feature, Free Spins, Game Trail
Free Spins?: Yes
Playing Slingo Inca Trail
How to Set Your Stake
Playing Slingo Inca Trail is very straightforward. You simply need to use the 'Stake' button to choose your preferred bet amount.
How to Spin the Reels
Once you've selected your stake, you just need to hit the 'Start Game' button to begin. The game grid will reveal numbers, and you'll need to mark them off to complete lines and trigger wins. Make sure you keep an eye out for Wild and Super Wild symbols, as they can help you form matches.
To progress along the game trail, land the Arrow symbol. As you advance, you'll reach Machu Picchu and have the chance to select artefacts with specific prizes.
Bonus Rounds in Slingo Inca Trail
The great news is that, as well as the base game, there are plenty of bonus features you will find as you keep playing.
Wild and Super Wild Feature
The wilds are special symbols that can replace any of the numbers in their respective column - which can result in instant wins. The Super Wilds are even bigger and better. These symbols can substitute for any number anywhere on the entire grid - not just in the same column.
Free Spin Feature
There is the chance to trigger free spins throughout the game, providing you with an extra chance to complete a win.
Game Trail Feature
As you get Slingos, you will work your way on the Inca trail. On the way, you will start collecting arrow symbols, taking you toward the final destination of Machu Picchu. There, a variety of artefacts await, each containing prizes that can potentially be awarded.
Extra Spin
In some instances where you don't manage to secure a win during the base game, the game may grant you an extra spin - giving you another chance to hit a winning combination.
21.co.uk Review Of Slingo Inca Trail
Slingo Inca Trail transports us to the heart of the ancient civilisation, offering a fusion of slot and bingo gameplay. With impressive graphics that beautifully depict the Incan landscape, it's definitely a great-looking game. The massive 5x6 grid takes centre stage - along with the max win of up to 5,000x.
The inclusion of the Wild and Super Wild features, Free Spin Feature, Game Trail Feature, and Extra Spins offers more ways to create wins.
If you're someone after innovative gameplay, great visuals, and plenty of bonuses, Slingo Inca Trail is a must-try. For alternative Slingo Games, you could also try Slingo Rainbow Riches and Slingo XXXtreme.