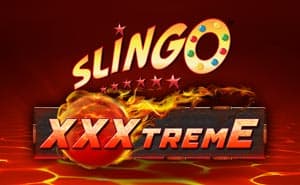 Slingo Xxxtreme
About Slingo Xxxtreme
Extreme in both name and nature, the Slingo Xxxteme top online casino game offers players a flaming inferno of rapid-fire Slingo bingo gameplay that could land you in a vat of scorching payout potential. With 11 speedy rounds to play through, your aim is to create as many winning Slingos as you possibly can as randomly generated numbers and symbols appear to potentially lead you to jackpots of up to 1,000x your stake.
How To Play Slingo Xxxtreme
Stake
As with a list of all casino games, it's important to set a stake that best suits the budget you have in mind for playing Slingo Xxxtreme. Alter the default bet setting by using the (+) and (-) buttons until you reach an amount you're happy to wager. Unlike slot machines, the stake you place when playing Slingo Xxxtreme allows you to play through 11 consecutive rounds, so it's worth checking that you're content with your bet before you begin playing.
Spin
Once you've settled your stake and familiarised yourself with the rules of the game, you can start playing by hitting the Spin button. The game will play through 11 rapid-fire rounds where five new numbers will appear below the grid; any matches will be crossed off the bingo-style setup automatically. There are also a number of special symbols that could appear as you play, such as Jokers which act as the game's Wilds that allow you to mark off a number of your choice and Free Spins that will award additional rounds once the first 11 are spent.