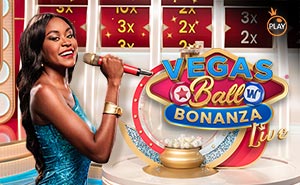 Vegas Ball Bonanza
About Vegas Ball Bonanza
Purchase tickets in Vegas Ball Bonanza with the aim of matching the numbers on the balls that are randomly drawn from the tumbling machine. Each ticket that is purchased will come with a 3x3 grid, offering nine numbers. Wins are achieved by either creating lines of matched numbers or completing a full house.
This live casino game features classic features, such as interactive live hosts and chat functionality to engage with other players in the lobby.
How to play Vegas Ball Bonanza
How to set your stake
Before you start playing the Vegas Ball Bonanza live casino game, you will need to choose your bet amount for the purchase of a ticket. This amount can be set between the minimum and maximum betting range.
Special features in Vegas Ball Bonanza
The special features in Vegas Ball Bonanza are varied and come with the potential to improve wins or increase chances of winning.
Star and Wild Bonus Ball
Included within the tumbling device are bonus balls, which come in the form of the star ball and wild ball.
Regular games will last until nine numbered balls are drawn, but this can be extended by a bonus event if the wild ball is drawn. The bonus games that can be triggered by the bonus balls include a spin on the multiplier wheel for potential improved wins.
21.co.uk Review Of Vegas Ball Bonanza
Vegas Ball Bonanza features all the classical elements of typical live casino games, including the interactive host and chat functionality.
This game, in particular, combines bingo with live casino for unique gameplay that is created by bonus balls and games.
Other games from this provider