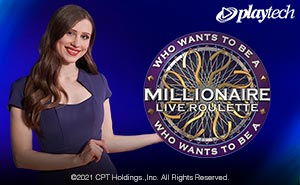 Who Wants To Be a Millionaire? Roulette
About Who Wants To Be A Millionaire Roulette Live
At one point in time, the UK-created game show Who Wants To Be A Millionaire was the most-watched thing on US television, and it was ranked at the number six spot on TV Guide's list of Sixty Greatest Game Shows Ever. Multiple providers have brought this TV product onto player screens, with some notable ones being Big Time Gaming and Electric Elephant. Industry giant PlayTech has now decided to morph this branded creation into the streaming realm, paring it with roulette gameplay. Wheel-spinning live titles like Mega Roulette Live and Quantum Roulette Live are all the rage at online casinos. So, it should surprise no one that PlayTech has chosen to blend the Who Wants to be a Millionaire TV show with wheel-spinning betting action.
The gaming concept of this variant leans on the European variation of roulette, and the novel take here is that at the start of a gaming round, up to ten numbers will be randomly selected, becoming the Millionaire ones. If the little white ball lands on these positions covered by players' inside wagers. Then, a corresponding bonus will be awarded.
How To Play Who Wants To Be A Millionaire Roulette Live
How to Set Your Stake
PlayTech's live roulette games usually have a simple-to-follow layout. That holds here as well, as you have a bet selector field in the lower left corner of your screen featuring a table set up with all the available wagering spots and the plus and minus icons that you must use to set your desired wager amount.
How to Play Who Wants To Be A Millionaire Roulette Live
Playing Who Wants To Be A Millionaire Roulette Live is simple, but please note that only inside wagers qualify for entry into the Millionaire Rounds and winning multipliers. Outside ones, meaning black/red, odd/even, high/low, column, and dozens, only payout as normal roulette. Also, if you make outside bets, you will not get millionaire numbers, but you can watch bonus rounds play out.
Who Wants To Be A Millionaire Roulette Live Bonus Features
PlayTech has replicated the Who Wants To Be A Millionaire TV Show in casino lobbies by incorporating its famed help options. That means that just like in the popular quiz, players can ask for lifelines, select between three choices, 50/50, ask the audience, and ask the host (a friend in the show).
There can be five, eight, or ten rounds in the Millionaire game here, which are questions with four possible answers, and this number depends on which symbol was on the winning number. A question mark gives five, with the first three rounds ensuring a combined multiplier. A Bronze symbol awards eight, with the initial five guaranteeing a multiplier, and the Gold spot supplying ten rounds, with the first five also giving a multiplier prize.
21.co.uk Review Of Who Wants To Be A Millionaire Roulette Live
Who Wants To Be A Millionaire Roulette Live by PlayTech is a great alternative roulette game that is sure to replicate aspects of the legendary quiz show. It builds on European roulette's gameplay by adding Millionaire rounds and multipliers.