Unfortunately, we are not available in your area!
You are visiting a version of our website that is outside of your region.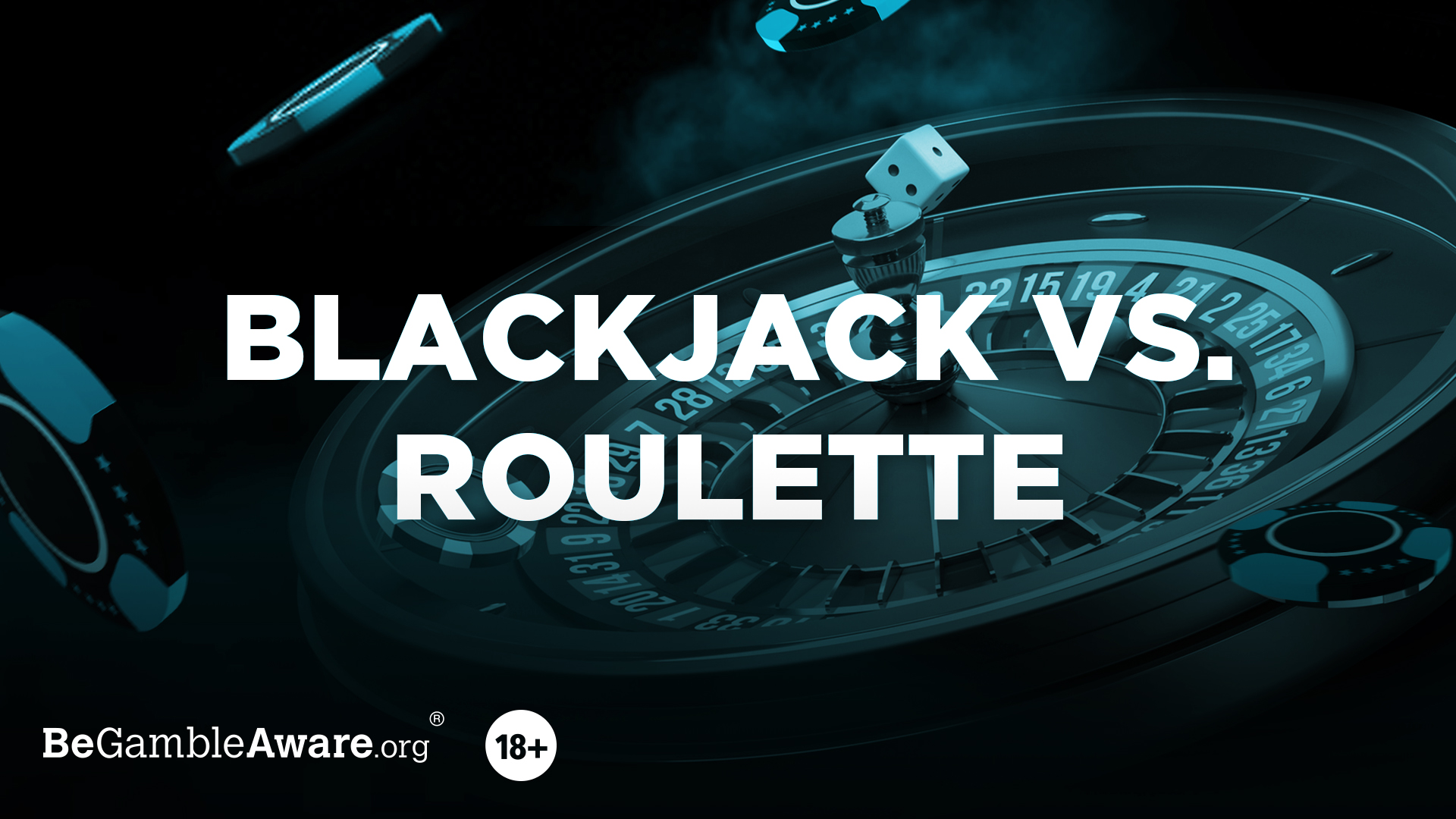 Blackjack vs Roulette
The sheer wealth of choice available to you means there's always something new to try. You might be tempted to try everything, but perhaps you're more interested in finding your absolute favourite game and getting good enough at it to beat the house, or at the very least become a highly experienced and knowledgeable player.
To help you choose the best game for you, we're taking a look at two of the most iconic games of them all: online Blackjack and online roulette. But which should you choose? Let's find out!
A Game Of Chance Or Skill?
Let's get one thing out of the way first: Both Blackjack and Roulette are ultimately games of chance.
While you might be able to bet sensibly and play the odds, at the end of the day you don't choose the cards you're dealt or where the ball lands. However, Blackjack definitely gives you more control of how the game plays out than in Roulette. Whether that's a good thing or not is for you to decide.
Both Blackjack and Roulette are played against the house, which arguably puts more of the control in your hands as there is no danger of your opponent having more skill at the game than you. However, this also means the outcomes are much more random and are reliant on the "luck of the draw".
In Blackjack, it is said that the key to success lies in learning and deploying a variety of strategies depending on the hand you are dealt (and therefore what hand the House probably has). If you want to learn more about these plays and how to incorporate them into your gameplay, be sure to check out our complete guide to Blackjack strategy.
However, while Blackjack gives you more control over your winnings, most players tend to peak at a certain point where their ability to play strategically hits a brick wall - they win frequently but less, and it's difficult to make further progress. It could be said that Roulette is the opposite of this, but is it just random chance?
Playing The Odds
As we have already said, there's no getting away from the fact that Roulette almost entirely lacks the strategic element that some find so engaging when playing Blackjack. Whether this is a problem depends on what kind of a player you are.
While there are those for whom beating the house through their own efforts is a key aspect of gaming, there is an equal number who get all of their enjoyment from the act of giving up their influence on the events of the game and really relying on luck to win. That said, Roulette is not entirely based on luck.
Clearly, the spin of the wheel and the way the balls land is entirely random, but what Roulette has that Blackjack does not is a variety of ways to manage your risk. Blackjack's risk management is binary: You either put more or less money down on each hand.
In Roulette, you can split your chips over several numbers and both colours if you're looking to make a lower-risk move, or put them all on one number or one colour, however this does have a lower chance of winning.
How Difficult Are Blackjack & Roulette?
Blackjack is an easy game to play but a hard game to master and those right at the top of the game who win the big money prizes are those who combine a great understanding of the odds with mathematical skill and quick mental gymnastics that might be beyond the average player.
For some, the difficulty of reading the game and understanding which way to go is a big aspect of it, whereas others find this element sucks the joy out of gaming.
On the other end of the spectrum, Roulette is about as easy as a game can get - but that doesn't matter for those who love it. Strategy doesn't matter to them, because Roulette is designed to build maximum tension and engagement instead and winning big thanks to a succession of higher and lower-risk spins delivers a gaming experience that no amount of clever moves in Blackjack ever could.
Which Game Pays Out the Most?
So, Blackjack or Roulette - which game will enable you to win the most money? You probably already know the answer to this question, because if you don't have the patience for Blackjack then you won't win big at it.
In the end, if you'd prefer to have a lower but more controlled prize pot that you can keep a lid on, play Blackjack. If you'd rather play for the chance to hit a potentially massive jackpot, then Roulette is your game.
Try Online Blackjack and Roulette For Yourself
If you're undecided which game you prefer, the good news is that there are a wide range of options for you to try them both for yourself. From classic online Blackjack and video Roulette which use simulated graphics to deliver the experience to live Blackjack and live Roulette games which put you in front of a real dealer via HD video streaming, there are some fantastic versions of both games available right here at 21.co.uk.
Learn More About Blackjack and Roulette