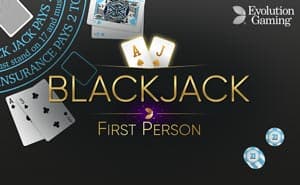 First Person Blackjack
About First Person Blackjack
Blackjack is one of the best casino games in the UK, standing as one of the most recognisable card games amongst casino veterans and novices alike. When you play First Person Blackjack you'll notice the details that make this top online casino game unique. In the background are the casino's French windows with their soft red velvet curtains. Nearby, the half-moon table of polished oak with its green baize surface is ready and waiting with decks of cards and chips.
All that's missing is the dealer, but if you press the Go Live button one will appear as if by magic for you'll be instantly transported to a live game where the décor is exactly the same.
First Person Blackjack provides a superb introduction to the live casino version by allowing you to experience an authentic atmosphere at a pace you can enjoy before you try the real thing. And best of all, it's available on mobiles and tablets as well as PCs, giving you the opportunity to play when and where you choose.
How to Play First Person Blackjack
This Online Blackjack Game is specifically designed for you to control the action which is ideal if you are new to this simple but enthralling game or if you want to relax while enjoying some high-quality entertainment. As usual, Evolution Gaming's screen controls are so easy to use and understand allowing you to start playing whenever you choose.
First Person Blackjack has a series of simple and easy-to-understand gameplay features. The object is to reach a total score on your cards as near to twenty-one as possible. If you miscalculate and go over the limit you bust and the dealer wins. Be cautious if you are near the total and choose to stand. You'll then compare your cards to the dealer's to see who is nearest to the final tally.
There is a total of eight decks of cards which are randomly shuffled. Begin by selecting Deal Now to receive your first two cards from the dealer's shoe. You can split your hand into two by using the arrow key, stand or stick with the minus button and declare with the plus sign. Unlike the live format, there is no time limit for placing your bet.
Special Features in First Person Blackjack
The format allows you to play up to five hands against the dealer at the same time. There is a Repeat Bet button which instantly places your previous bet and a Double button to increase your wager by two.
Some betting variants involve doubling after a winning hand while others advocate doubling your bet after a loss. In First Person Blackjack you have the freedom to experiment with your betting strategy before choosing to visit the live version.
First Person Blackjack by Evolution Gaming Review
Often the idea behind playing Live Casino Games online is to get that land-based casino experience at your fingertips. Using a first person view really puts you, the player, in the driving seat. Paired with quality casino aesthetics makes this a live experience like no other. If you're familiar with Blackjack then this game will be straightforward to play right away. If you're still learning then our Guide on How To Play Blackjack will point you in the right direction.
Are you a fan of classic casino games? We have a variety of other traditional table games including Online Roulette, Poker and Baccarat.