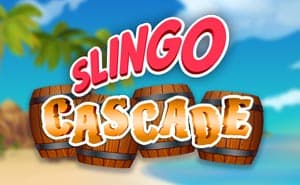 Slingo Cascade
About Slingo Cascade
Slingo Cascade is yet another fantastic title from the team at Slingo Originals, who provide 21.co.uk with every single one of the incredible Slingo games we host in our fantastic UK Slot collection. This addition takes players on an ocean-bound voyage as you spin your way across the seven seas accompanied by a band of salty sea dogs in an attempt to discover sunken treasures.
The set up of Slingo Cascade is that traditionally followed by most Slingo Casino Games. Players are presented with an online bingo-style grid adorned with barrels of gunpowder that each hold a different number value. With nine rounds to play through, each new spin will generate a new set of numbers and symbols that will appear at the bottom of the grid and any matching numbers will be crossed off the grid automatically - the aim is to cross off enough matching symbols to make winning lines (Slingos), with each newly formed Slingo amping up the payout potential that little bit more. To help players in their pursuit of wins, Slingo Cascade offers an additional feature that players of modern slot machines may find familiar. Similarly to cascading reels slots, each time a matching number appears, it will trigger a respin to pave the for further potential matches. Additionally, any complete Slingos will explode, leaving fresh sets of numbers in their wake.
How To Play Slingo Cascade
Stake
Setting a stake that best suits your budget is always an integral part of playing any casino game and Slingo Cascade is no different. If you feel like the default amount isn't fitting to your bankroll, simply use the (+) and (-) keys to alter the value to better fit your preference.
Spin
Once you're happy with your wager, press the 'Spin' button to start playing. Numbers will appear in the space below your grid and any matches will be marked off automatically. There are also several special symbols such as Cherubs (known more commonly as Jokers), Free Spins and Devils that can appear as well.
Slingo Cascade Review
With a yo-ho-ho and a bottle of Rum at 21.co.uk we welcome aboard the Slingo Cascade pirate ship. If you're a fan of pirate themed games, Slingo or cascading reels then this game has everything you're looking for. The pirate theme is a far-cry away from TV/board game themed Slingo Deal or No Deal and Who Wants To Be A Millionaire Slingo, making it a welcome addition. Being one of the Best Online Casinos in the UK means we're always trying to add variety to are offerings and welcome Slingo Cascade with open arms.