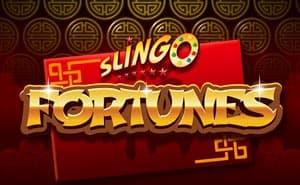 Slingo Fortunes
About Slingo Fortunes
As you may already know, we pride ourselves on our vast collection of online gambling games; filling our four virtual walls with enough variety to adhere to every player preference possible. We're always updating our catalogue of new casino games with new titles, so there's always something fresh for you to pursue. Slingo Fortunes is a release we're particularly proud to announce, helping us on our mission to provide the most eclectic selection of games possible with its fantastic melting pot of features from both slot machines and online bingo as well as boasting the Far East theme that we know many of our players are extremely fond of - as well as a plethora of winning potential to boot!
If you're unfamiliar with how Slingo games work, rest assured that we'll talk you through any important features and gameplay mechanics that you'll need to know before dipping your toes into the pool of Slingo casino games.
How To Play Slingo Fortunes
The Aim
The aim when playing most Slingo games is to fill the number grid with as many matches as possible to form winning 'Slingo' lines, the more lines you form the higher your payout potential will be. During each round, 5 randomly generated numbers will appear in the row below the game grid and any matching numbers will be marked off the grid automatically.
Stake
To set your bet in Slingo Fortunes, use the (+) and (-) buttons to toggle through the available values until you reach one that fits your bankroll. Bear in mind that this value will cover 10 spins that will be played out in succession, so make sure you're happy with the amount you've chosen to wager before you play as you'll be unable to change it until the game ends.
The Lucky Envelope
Once your stake is set and you're ready to play, you'll be asked to select one of the 26 envelopes to set aside, similar to the box selection in Slingo Deal or No Deal. At the end of the game, you will be given an offer to sell the Lucky Envelope in exchange for a cash payout or open it to reveal the amount inside that you will be awarded.