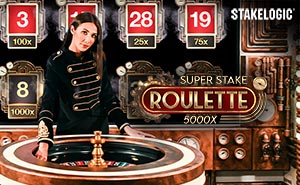 Super Stake Roulette
About Super Stake Roulette
Stakelogic debuted Super Stake Roulette in 2022. Similarly to other popular streaming roulette choices on the market such as XL Roulette by Authentic Gaming, this title also utilises the European version of the game, spicing it up with multipliers.
The novel kick here is that up to five multipliers can be added to the betting board in Super Stake Roulette, ranging between 50x and 750x. Players can also opt for the Super Stake option, which imposes a 50% commission, awarding five more multipliers that start at 100x and end at 1,000x as a trade for the paid fee, plus a money wheel symbol also gets thrown that triggers an extra round that can award a multiplier of up to 5,000x.
Note that all multipliers are provided only on straight-up wagers, which pay 29:1, the same as many other multiplier-powered live roulette choices. This game is all about the Super Stake option, which delivers boosted thrills that are enhanced by Stakelogic's top-notch presentation of Super Stake Roulette.
How To Play Super Stake Roulette
How to Set Your Stake
When no Super Stake Roulette round transpires, this game will feature a board with different chips below it, which allows players to set their desired stake level. As noted above, only straight bets qualify for multipliers, but anyone can also place any type of outside ones if they feel like it.
How to Play Super Stake Roulette
There is nothing overly complex about playing Super Stake Roulette. After a round ends, a countdown starts, during which players can place their bets. Right of the chip wager adjuster sits the Super Stake option, available to anyone willing to pay its fee. When the wheel in this game begins spinning, the camera moves to an overhead shot, and the chosen multipliers are displayed to the right of it, informing you if you have bet on one of the selected numbers. If the ball lands on a wagered position, you get a 29:1 payout, which can be multiplied if the accurately guessed number had a multiplier overlaid.
Super Stake Roulette Bonus Features
At the start of every spin, this game may pick a random number to carry a wheel symbol, but that is not guaranteed. If it does occur, and you have bet on the number with it attached, and the ball has landed on it, you will enter the Money Wheel Bonus. Inside this round, a wheel featuring fifty-four segments will spin, each listing a multiplier. Only one of these positions will have the alluring 5,000x prize potential, and if the flapper stops on it, Super Stake Roulette's top win is awarded.
21.co.uk Review Of Super Stake Roulette
Super Stake Roulette competes with an ever-growing pool of multiplier-infused roulette versions based on the European variant that boast 29:1 payouts for straight-wager wins. Playtech's Quantum Roulette Live is another popular choice from this batch, implementing some of the rules of this game.
It is not easy entering the Money Wheel Bonus as multiple spins may occur before a wheel symbol comes into view, and when it does, it will still take a sizeable stroke of luck to hit its number.